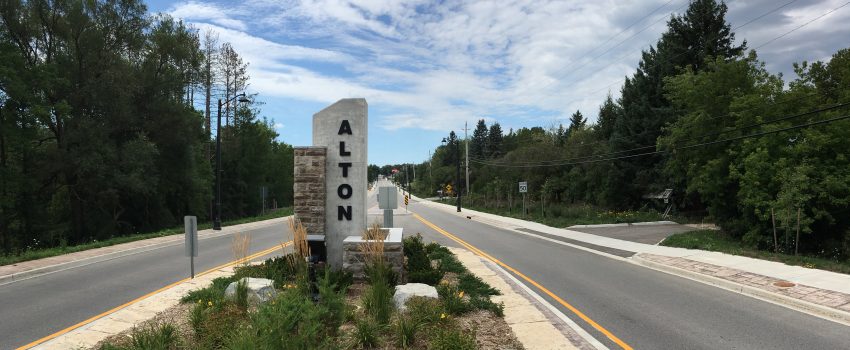 Welcome to Alton, one of the prettiest villages in Ontario, located minutes from the amenities of Orangeville. Alton itself is home to some key attractions and points of interest.
The Alton Grange: Some of the Best Hiking in Southern Ontario
In an area renowned for fabulous hiking, the Alton Grange is a hidden gem, featuring marked trails across the 350-acre tract to offer some of the best hiking in Southern Ontario. The Grange is an environmentally significant property, the meeting place of Shaw's Creek and the Credit River. Diversity is abundant here, from the huge stands of towering conifers to groves of cedars and maples, complemented by ponds, wetlands and rivers, perfect for photos. This is one of the top places to hike north of Toronto.
Alton Village Pump Track: Fun Outing for Kids and Teens
Alton Village is also home to a new pump track – a continuous looping track with lots of mounds and banked curves to bicycle through with little to no pedalling. The Alton Pump Track features two tracks: a junior loop for beginners that is 25 metres long, and a 175-metre main track. All ages and skill levels can try out the fun and excitement of the bicycle pump track, whether on a BMX or regular bike. This wonderful community isn't just a fun thing to do with kids or teens; it's a family-friendly event.
The Alton Mill: One of the Best Art Galleries in Ontario
The Alton Mill is one of the prettiest heritage properties and a wonderful art centre. It's the perfect place to spend an afternoon. You can take in an array of changing exhibits, browse some of the finest art gallery gift shops stocked with local work, experience history in the heritage museum, or chat with some of the 25 or so artists who have their studios in the mill. Built on the banks of Shaw's Creek, the natural splendour, complete with waterfalls and outdoor sculptures, is a fitting backdrop to this "jewel in the crown of the GTA's art scene". Its industrial-chic ambience also makes it a top heritage event place for your next local gathering.
The Alton Mill Arts Centre is also home to the annual Fire & Ice Festival in January (during non-pandemic times), featuring a weekend of fun. All-ages activities include ice sculptures and bonfires, along with food, drink, art, live music and skating on the mill pond.
Ray's: Casual Fine Dining and Delicious Bakery
Just say the name Ray's 3rd Generation Bistro Bakery to hear loyal fans claiming it to be one of the best restaurants north of Toronto. This longstanding Alton icon has been the village bakery since the 1930s. Bought in 1966 by Vera and Gavin Ray, it's remained a family-owned and operated business since then, famous for the classic taste of Ray family recipes. Ray's is known for its casual fine dining, but you can also pick up a scrumptious sandwich, loaf of bread, or a sweet treat to go. It's easy to see why it makes the grade as one of the best bakeries in Caledon.
Alton Public School
For kids, Alton Public School goes from K-6 and is a small, intimate school with performing arts and environmental education as vital components of the educational community.
Village life is full of community togetherness and attention-grabbing attractions. Experience the charm of one of the best small towns in Ontario – enjoy all that Alton Village has to offer.
1349 Queen Street West
Only a 5 minute drive from Orangeville and a 5 minute walk to Ray's 3rd Generation Bakery, what more could you ask for in a property?! This gorgeous and lovingly restored home built from quarried stone is sure to charm you. Set well back from the road, surrounded by mature trees and with no neighbours behind you'll feel like you're in the country. Prepare to be immediately struck by the covered wrap-around porch and raised deck. Entering the home you'll find the long living room with gas fireplace and two sitting rooms before entering the combination dining room and kitchen with ample counter and cupboard space as well as breakfast bar. Through the mudroom off of the porch you'll find the three piece bath and stunning sunroom with bright, large window, exposed stone and walkout to the back patio perfect for barbecuing. The upper level features a four piece bath servicing all three bedrooms including the large master and front bedroom which walks out to the raised deck overlooking the front yard.